HUGH LEAL - JAZZ PROMOTER, PRODUCER, PERFORMER
Hugh Leal (b. 1950) is a Windsor, Ontario jazz promoter, whose activities over thirty-five years include concert promotion, operating a record label (as owner/producer) and performing as a guitarist, banjoist and bandleader.
CONCERT PROMOTER
After first playing banjo with Detroit's popular Red Garter Banjo Band in 1970, Hugh Leal began as an independent concert promoter in Windsor in 1977. Leal initiated a pattern that would last thirty years: annually staging three or four jazz shows…presented either as night-club/saloon "cabarets concerts" or productions at some of Windsor's main concert stage venues: The University of Windsor, Mackenzie Hall, and The Art Gallery of Windsor. These promotions were first advertised as Hugh Leal Presents (1977 to 1980), then the Art Gallery of Windsor Jazz Series (1981 to 1992) followed by the Windsor Jazz Series and Windsor Jazz Festivals (1993 to 2000), culminating with The Capitol Theatre Jazz Series(2001 to 2006). Aside from the final five years where Leal was producer of the Capitol Theatre Jazz Series, all of these shows were entrepreneurial ventures: he and his wife Kathy took the financial risk on these "small concert" presentations: bringing in artists from Chicago, New York, Toronto and Montreal, covering the talent costs, promotion and staging. Leal's initial shows in the late '70's brought to Windsor some of the then-surviving pioneers of 1920's and '30s "hot jazz": Wild Bill Davison, Bud Freeman, Doc Cheatham, Cozy Cole, Art Hodes, Vic Dickenson, Pee Wee Erwin, Buddy Tate, J.C. Heard, Barrett Deems and others. Some leading "traditional revivalists" were also showcased: Bob Wilber, Dick Wellstood and Jim Galloway.
Later, Leal featured many of Canada's Juno Award winning artists. During the five annual Windsor Jazz Festivals (1992 to 1996) such "names" as Oliver Jones, Rob McConnell, Ed Bickert, Dave Young, Guido Basso and Don Thompson were presented on Windsor concert stages. For these festivals, Leal also secured the cash sponsorships of a number of Windsor businesses and cut the "contra-deals" for local TV, radio and newspaper media sponsorships. Some of the WJF events were taped and broadcast nationally on CBC Radio.
Leal's initial love of "traditional jazz" did not preclude him from showcasing other more "modern" stylists: Tommy Flanagan, Sir Roland Hanna, Zoot Sims, Canada's Time Warp, Reg Schwager and, annually from 1987 to 2014, the patriarch of Detroit's jazz scene, trumpeter Marcus Belgrave. Such leading jazz players as Peter Appleyard, Bucky Pizzarelli, Mundell Lowe and Belgrave were featured in the Capitol Theatre series. That series also regularly included prominent jazz performers based in the Windsor/Detroit area including, Paul Keller, Pete Siers, Ray Manzerolle, Jim Dapogny and Bill Meyer.
In early 2007 The City of Windsor refused an extension of credit to keep the Capitol Theatre solvent, and the theatre was forced to declare bankruptcy. This marked the end of Leal's record of thirty years of successfully presenting jazz in Windsor. Hugh Leal has no current plans to revive his jazz concert promotion work in Windsor.
RECORD PRODUCER
In 1983 Leal launched his independent jazz label Parkwood Records with an LP recorded in New York (Dec. 1982) of trumpeter Doc Cheatham. That first Parkwood album was named by The New York Times jazz critic John S. Wilson on his list of "top 10 jazz albums of 1983". Other accolades followed in such publications as Stereo Review, High Fidelity Magazine, The Globe and Mail, The Village Voice and the bulletin of the Hot Club of France. Leal found customers in many countries and started recording more albums of traditional artists: Art Hodes, J.C. Heard, Dick Wellstood, Bob Wilber Sammy Price and Franz Jackson. Parkwood enjoyed wholesale distribution agreements in seven countries and sold records through major chain stores such as Tower Records and Sam The Record Man. Later Parkwood albums featured a more modern jazz sound and accolades continued when pianist Johnny O'Neal's trio date (with Dave Young and Terry Clarke) was named by USA TO-DAY in their "top 5 jazz albums of 1988." Parkwood's only "all Canadian" album, of the Toronto group Time Warp, was nominated in 1990 for a Juno Award for "best jazz album of the year." A major achievement in Leal's work were his recordings of trumpeter Marcus Belgrave, mainly with Belgrave playing "traditional jazz,' but also including a highly acclaimed "modern bebop" LP in 1987 with a trio of Belgrave, Dave Young and Earl Van Riper.
Leal ensured "world class" standards by hiring for his Parkwood recordings the engineers of Grammy Award winning jazz albums including Phil Sheridan, Jim Anderson and George Graves…and such nationally known engineers as Ed Wolfrum (Motown Records) and the late Jim Gibeau (NPR's Jazz at the Detroit Institute of Arts.) Parkwood recordings were heard on network broadcasts by the BBC, Voice of America, and the CBC…which also aired a one-hour feature in 1988 about Hugh Leal and his small record label.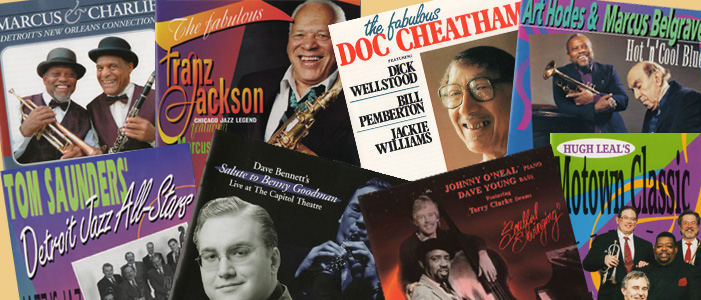 Parkwood albums have been named as "4" and "5-star" and "most recommended" recordings in such buying guides as: The Penguin Guide to Jazz on CD, The Rolling Stone Jazz and Blues Album Guide, The Rough Guide to Jazz, Diccionario del jazz, The Virgin Encyclopedia of Jazz and the final Encyclopedia of Jazz complied by the dean of jazz critics, the late Leonard Feather.
Leal sold his masters for twenty-two albums (the bulk of the Parkwood catalogue) in 2000 to Jazzology/Progressive Records of New Orleans. Since then Leal has produced further CD albums released on other independent labels…mainly on projects with Marcus Belgrave (his touring octet) and clarinetist Dave Bennett... including his sessions in the company of Dick Hyman, Peter Appleyard and Bucky Pizzarelli.
PERFORMER
As a rhythm guitar and banjo player Hugh Leal began performing in dixieland bands around Windsor and Detroit starting in 1969. In the early '70s, as a member of Detroit's popular Red Garter Banjo Band, led by Doug Jacobs, Leal played parties and events at all of Detroit's major hotels, arenas, and society functions and performed frequently on local TV and radio. In the early 90's Leal formed his Motown Classic Jazzband including some of Detroit's leading "dixie/swing" style musicians. At the 1998 Montreux/Detroit Jazz Festival, the band recorded a "live" CD with 85-year-old Chicago sax patriarch Franz Jackson as guest artist. The album is named a "5-star" record in the All Music Guide to Jazz.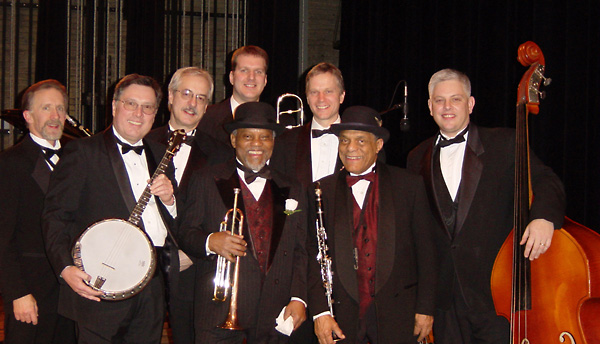 In 2001 Leal was asked by Marcus Belgrave to join the trumpeter's new Tribute to Louis Armstrong ensemble. After recording and producing a CD of the show and securing a booking agent for the package, Leal has played and managed the group for touring concerts. In 2005 Leal added annual touring for concerts in the combo of (then) 21-year old clarinet prodigy Dave Bennett in his Tribute to Benny Goodman. Between these two groups Leal has played concerts in thirty-five US states, Canada and Puerto Rico and for "pops" shows with The Detroit Symphony at Orchestra Hall and Meadowbrook and with other orchestras including San Antonio, Tacoma, Columbus (OH), Florida West Coast (Sarasota), Grand Rapids, Windsor and Kingston (ON). Also in 2005, Hugh Leal commissioned transcriptions of solos from several recordings by Doc Cheatham, arranging these for three trumpets. Leal performed this music in the Highlights In Jazz series in New York in a concert "Tribute to Doc Cheatham's 100th Birthday."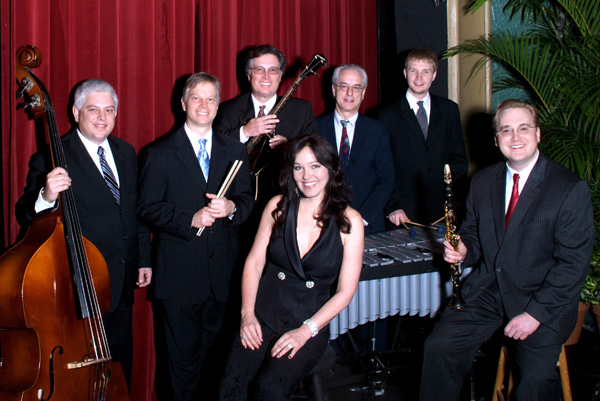 (For a schedule of upcoming concerts see: davebennett.com)
Recordings:
Hugh Leal has recorded on the following CD releases:
Tom Saunders'

Detroit Jazz All-Stars (Parkwood

1992)
Hugh Leal's

Motown Classic Jazz Band (Parkwood

1996)
Franz Jackson with Leal's

Motown Classic Jazzband (Parkwood

1998)
Marcus Belgrave's

Tribute to Louis Armstrong

(WJS 2001)
Marcus Belgrave and Charlie Gabriel

Detroit/New Orleans Connection

(WJS 2002)
Dave Bennett's

Salute to Benny Goodman

(PKO Records 2003)
Dave Bennett

"Remembering Benny"

(WJS 2006)
Marcus Belgrave Octet "Salute to Armstrong" at "Jazz in July", Oklahoma (2006)
Dave Bennett

Celebrates Benny Goodman's 100th Birthday (Arbors Records

)
The Speakeasy Quartet (WJS 2012)
Franz Jackson Milestones (H & P 2013)
Motown Classic Jazzband at 1994 Montreux Detroit Jazz Fest. (WJS 2014)
Vintage Marcus (WJS 2015)

Speakeasy Quartet plays Duke Ellington, with Marcus Belgrave (WJS 2015)